Good morning. A jump for stocks, potential further travel delays and a global tax idea. Here's what's moving markets.
Catch Up
Most European stock bourses are set to play catch up with Wall Street, which was open on Monday and reacted to solid nonfarm payrolls data from Friday and survey numbers from the services sector. The S&P 500 closed at a record while the technology-focused Nasdaq 100 outperformed, aided by Alphabet's Google getting a favorable court ruling on copyright infringement and a  delivery update from carmaker Tesla. Futures in this region are higher, with equity bulls happy to take rising bond yields as signal of economic strength. In commodities, oil futures are higher after sliding Monday amid some focus on Iranian supply.
Beyond Disappointing
The resumption of non-essential international travel from Britain could face further delay if coronavirus infections continue to surge elsewhere in the world, the government warned. The British Travel Association said the announcement was "beyond disappointing"; airline and tour operator stocks could be in focus today. Elsewhere, there were signs of hope in France, where contaminations in the country's latest wave could peak as early as this week, the health minister said. Globally, variants continues to surface that can lessen the effectiveness of vaccines.
Global Tax
Janet Yellen made the case for a harmonized corporate tax rate across the world's major economies, in a move she says could help end a race to the bottom by nations aiming to lure companies. Such a move could spur "innovation, growth and prosperity," the U.S. Treasury Secretary said during the spring IMF and World Bank meetings. Yellen also criticized the strategy of former president Donald Trump's White House in isolating the U.S. internationally, singling out China as she said America needs a strong presence in global markets.
Shake Up
Credit Suisse is overhauling its executive ranks after the Zurich-based bank was hit hard by the collapse of Archegos Capital Management. The firm's investment bank chief is set to leave in an exit that may be announced as soon as Tuesday, according to people familiar with the matter, while the firm's chief risk officer is also departing, along with a number of business heads. Archegos, a U.S. family office that defaulted on margin calls, could account for billions of dollars of losses at Credit Suisse. Credit Suisse said Tuesday that it expects to report a first quarter pretax loss of 900 million Swiss francs ($960 million).
Coming Up…
Yellen is among speakers discussing a sustainable recovery at the World Bank and IMF event, while cryptocurrency watchers may await results from Norway's Aker, which announced a new Bitcoin business last month.
What We've Been Reading
This is what's caught our eye over the past 24 hours. 
And finally, here's what Cormac Mullen is interested in this morning
Having flagged last month that semiconductor stocks were struggling for traction and at risk of a bearish breakdown, it behooves me to point out they have staged a miraculous recovery. The Philadelphia Semiconductor Index has jumped about 9% in three sessions, in the process negating the bearish head-and-shoulders pattern that was close to being formed. Why the rapid reversal in fortunes happened now is somewhat of a mystery, although it did coincide with the announcement of a U.S. government summit to discuss the global shortage of microprocessors, and that could mean fresh incentives or grants. Not that the sector needed any more tailwinds, as business is booming, something which had made last months relative weakness stand out at the time. Semi stocks are always worth keeping an eye on as they are often seen as a leading indicator for the broader market. They are back at all-time highs.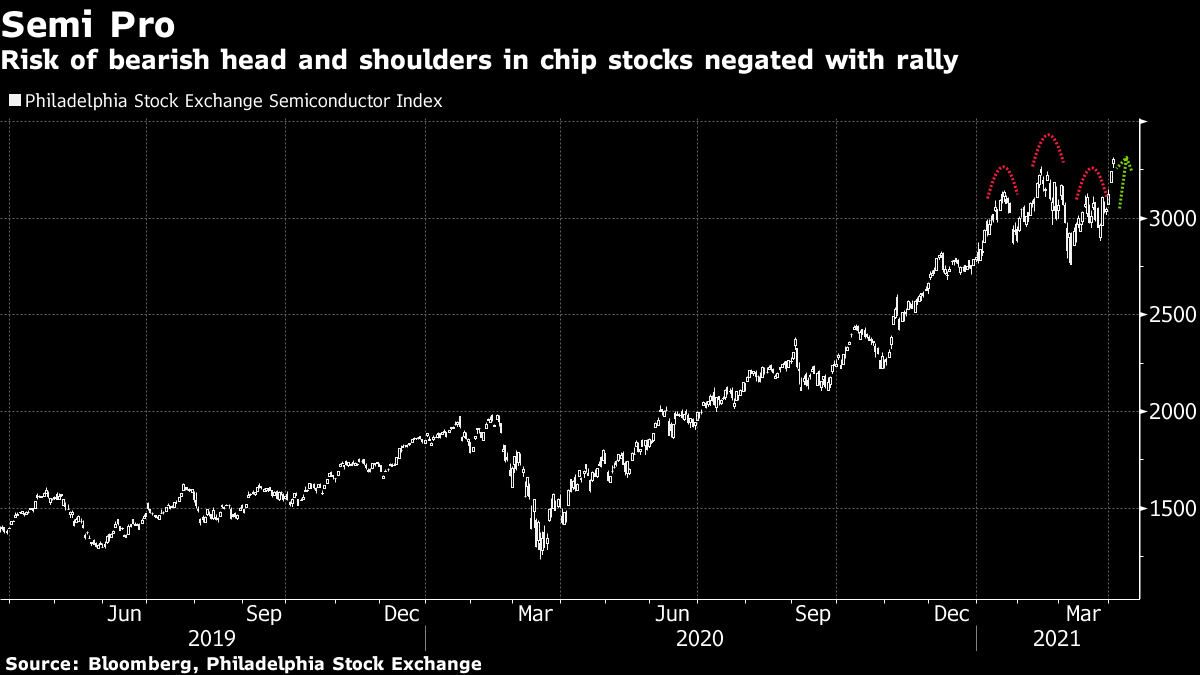 Cormac Mullen is a cross-asset reporter and…


Read More:Stock Markets Today: Stocks jump; Yellen tax idea; U.K. travel delay